CAP.CAP is

simple, fast, reliable, secure


web application

CAP.CAP is

simple


web application

What is CAP.CAP?
CAP.CAP is complete IT solution for simple, fast and secure dispatching of mass alerts and notifications in emergency situations.
It enables creation of unique message, which is disseminated through multiple alert mechanisms to unlimited number of subscribers.
The alerting and messaging system provides efficient communication during emergency situations, when information needs to reach subscribers reliably and quickly in order to stimulate rapid reaction.
Briefly about CAP.CAP
From one unique place!
Unique message is created!
One click dissaminates message through multiple communication channels!
Message delivery in seconds!
Reaches large number of subscribers who can react immediately.
Bypasses voice communication.
Main system features
Simple
Simple to use
Simple to create message
Simple to integrate
Fast
Quick message creation
Fast dispatch through multiple channels in parallel
Fast delivery of information
Enables rapid reaction in emergency situation
Reliable
Access restricted to authorized personnel
Compatible with CAP protocol
Disseminated alerts contain complete information
Secure
Messages can originate from authorized system or personnel only
Secure message delivery
CAP.CAP can be simply and securely integrate with existing systems
Verifiable authenticity and integrity of information
Benefits
Efficient and faster than traditional methods of alerting.
Simple and easy to create an alert message.
Quick and securely message delivery.
One message can be sent via multiple communication channels.
True and complete information.
Multimedia attachments allows complete information.
Enables recipients to respond on alerting message.
Effective in emergency situations.
System is easy to deploy, integrate and use.
Web based interface requires no client specific installation.
The SMS interface enables two-way communication.
Works through internet, intranet and mobile network.
Who can use this system?
State-wide warning system
Regional integrated warning services
City-wide community warning system
Staff Call-out system
In-Campus alert and notification system
Neighborhood notification system
Monitoring and incident reporting system
Staff notification and communication
Reporting and incident notification system
Public events and entertainment
Three simple steps in creating a message
1

2

3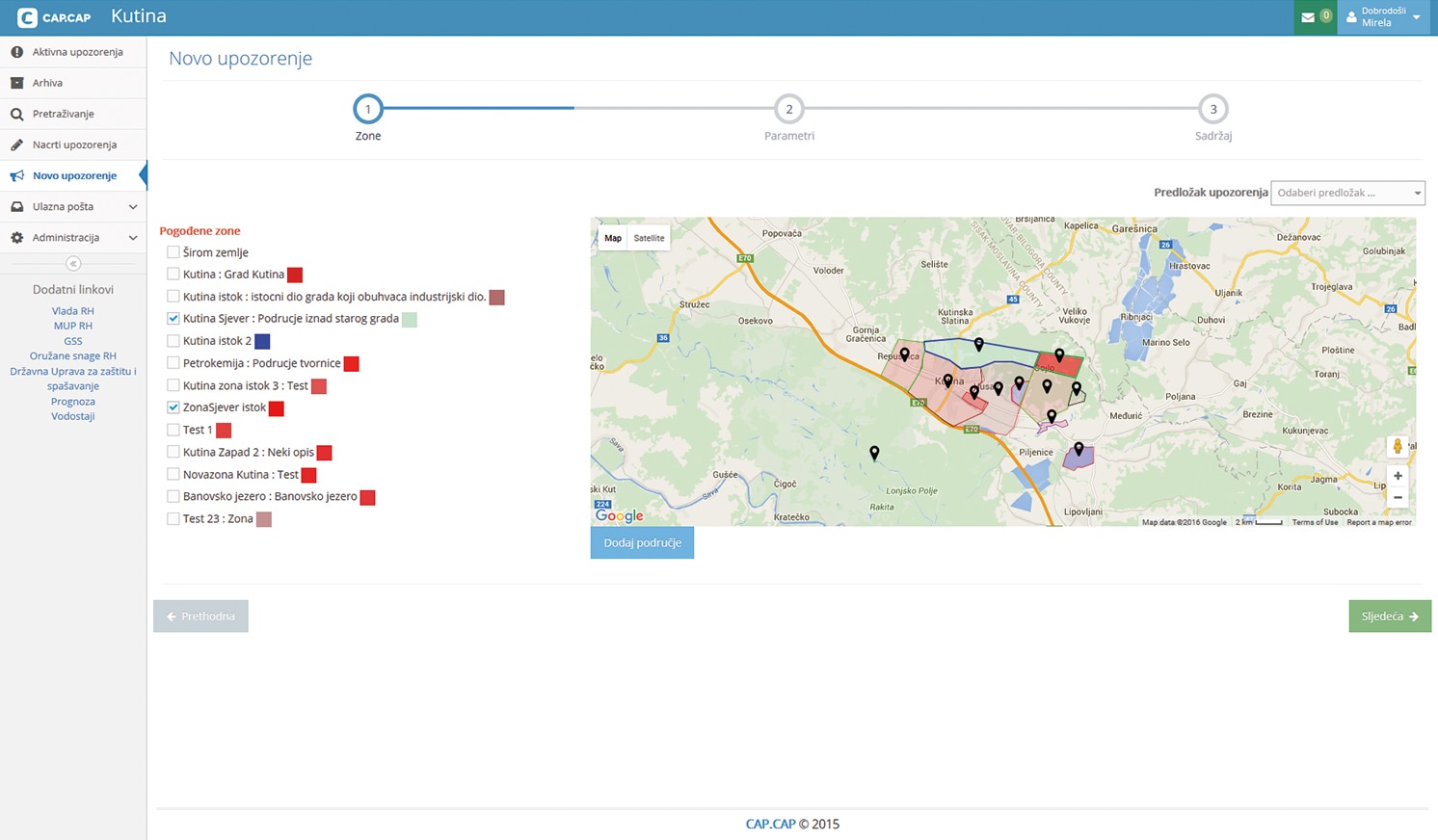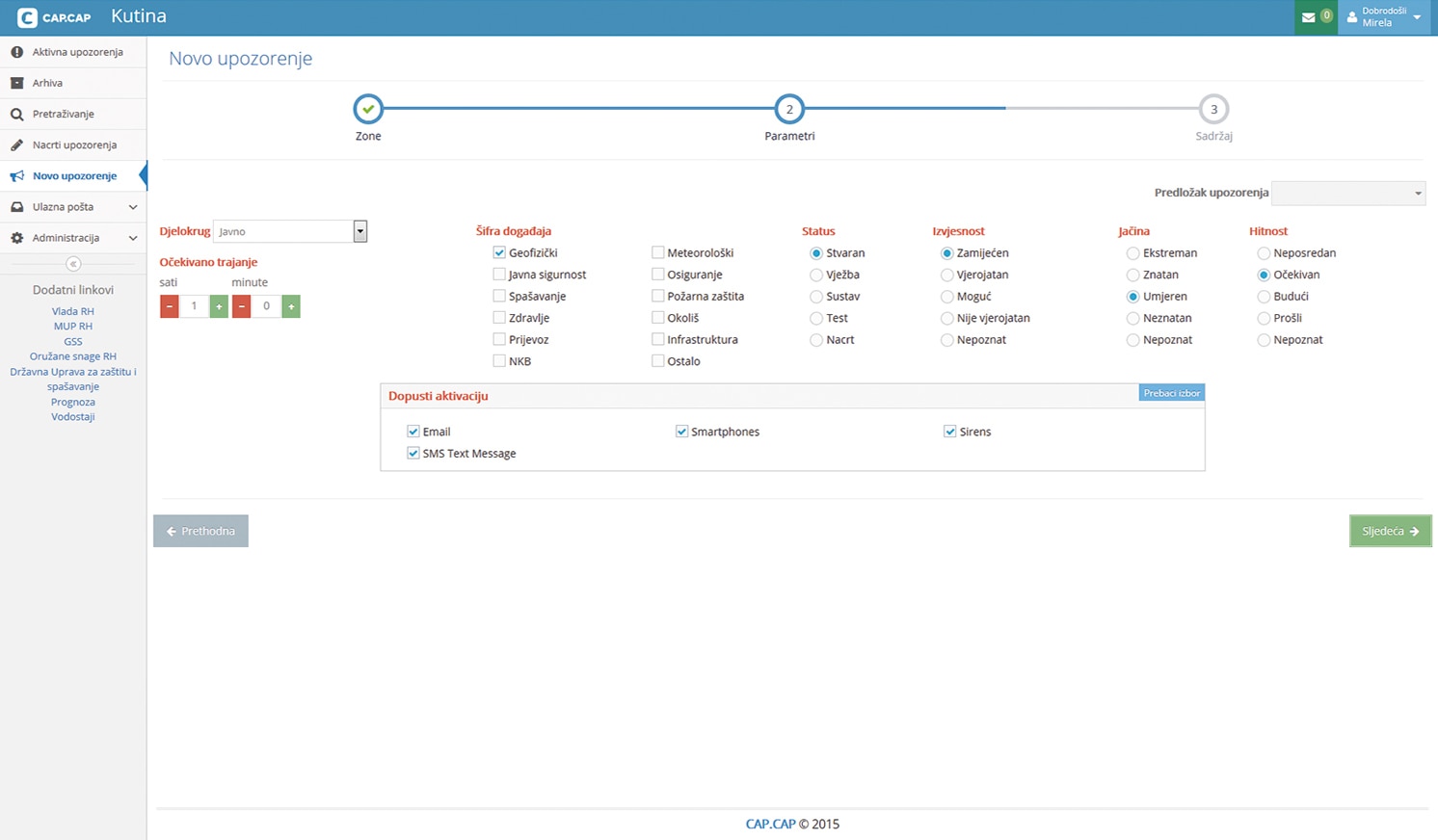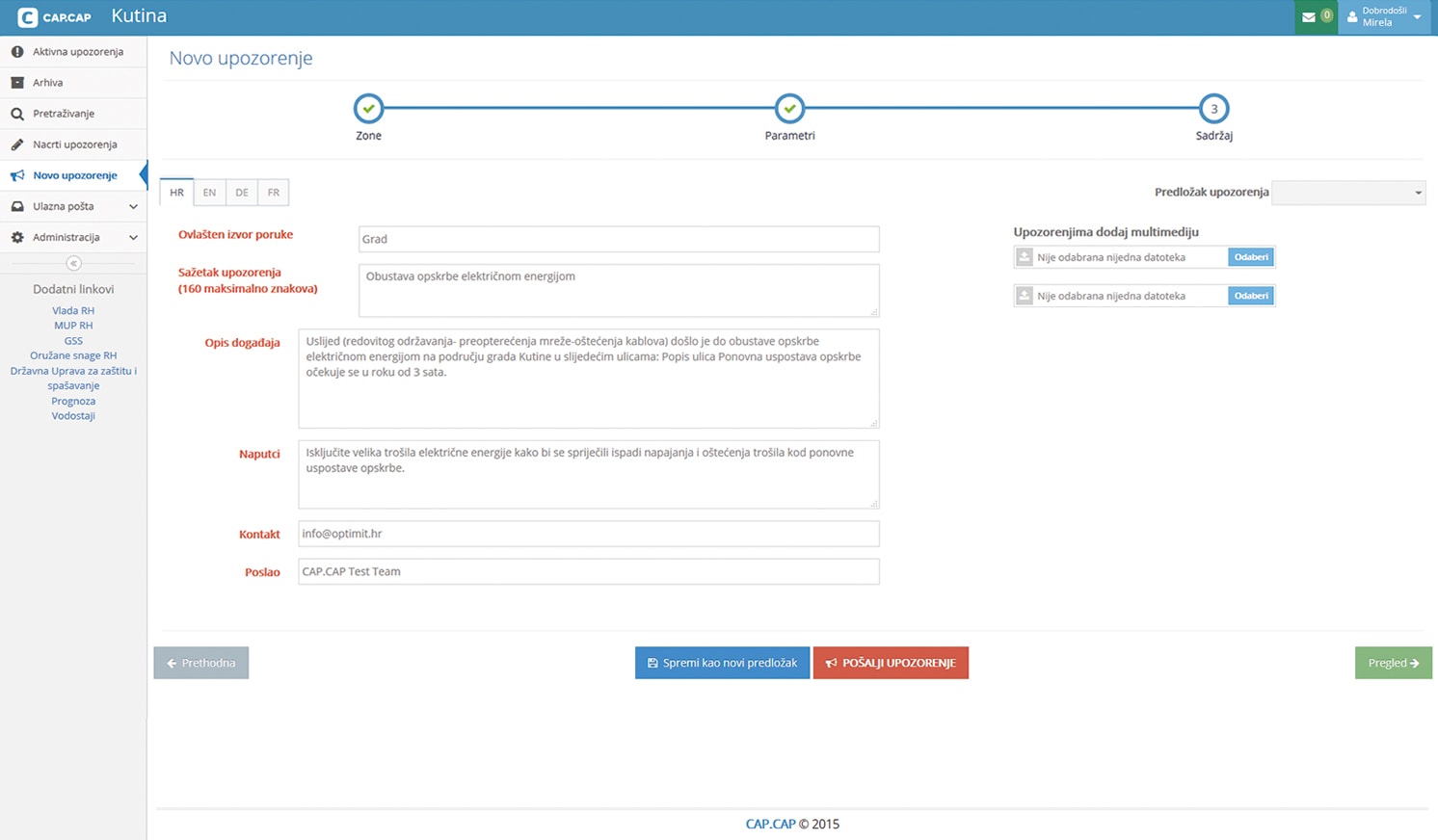 How it works?
CAP.CAP consists of web based services providing intuitive user interface to authorized users who create warning messages and send it through multiple channels to defined recipients. Application is suitable for alerts, warnings and notifications managed from one place and integrated with all warning methods supported by Common Alerting Protocol. Streamlined alert editor in just three steps enables quick entry of all CAP relevant parameters. For private and restricted alerts, direct two-way communication with connected subscribers enables fast feedback information using mobile devices.
Main purpose of this solution is fast and reliable dissemination of alerts, warnings and notifications from one focal point integrated with all available alerting mechanisms using OASIS CAP v1.2 protocol. Typical dissemination methods are web site publishing, SMS, email, RDS receivers, public sirens, TV/Radio interrupts, Marine Radio broadcasts, social network publishing.
Technical infrastructure
Dissemination methods
Request demo
Feel free to contact us with additional questions. Do you want presentation or demo? Are you interested in technical details? Send us e-mail, fax message or just call. We will be happy to answer you and provide you more details about CAP.CAP solution.
OptimIT Ltd
OptimIT Ltd
Planinska 13a, HR-10000 Zagreb, Croatia
+385 (0)1 78 97 301
+385 (0)1 23 05 407
capcap@optimit.hr
Damir Kovačić
damir_kovacic
OptimIT – about us
OptimIT Croatian IT company specialized in developing software solutions using open source technologies, created and customized for specific customer needs and requirements of business processes.
Main areas of our expertise are document management, e-Commerce solutions, business process management, content management and complex portals.
OptimIT offers consulting services in information system integration, project management and software development. Our solutions are based on JEE technologies, leading open-source platforms and operating systems.
About us:
www.optimit.hr